Welcome Guest! These are short descriptions of the topics - Actual ELessons are about 1 page in length. Enroll to view additional content.
Prevent common dog behavior problems
Learn and implement practical, proven methods on how to raise a puppy into the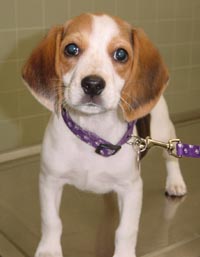 dog of your dreams and you will also prevent the most common behavior problems. Learning how to modify YOUR behavior so that the dog modifies his or her behavior is not only a great investment of your time, it is a fun and rewarding experience.

AnimalBehavior.Net (ABN) behavior education is drawn from experienced veterinarians, top animal behaviorists, trainers, and the personal experience of the Dr. Rolan and Susan Tripp from over 20 years of experience, regularly attending seminars, reading journals, books, and having discussions based on concepts recognized by leaders in the field.
Why not give your pet your best?

Isn't a better life for you and your pet worth a little time and effort? Follow the steps below and you will be well on your way to becoming a Positive Dog Parent.
1. Make a commitment now to walk your dog (on-leash) off your property daily. Your dog needs the mental and physical stimulation. Dogs tend to be less hyperactive if you establish a daily routine.
2. Take a few minutes before feeding each meal to practice the words - commands are out, building your dogs vocabulary is in. One of the best times to train your dog is after a walk and before a meal.
3. Dogs need something to do. Give your dog the job of learning behaviors from you such as sit, down, wait, stay, inside, outside, come, roll-over, etc. Their paychecks become receiving your attention, meals, playtime, toys, walks, and anything else they value. If you give these things for free, they lose their value and your dog will lose its motivation to earn them. A dog without anything to do does not have healthy outlets for normal behavior, and is most likely bored, stressed, and unhappy.
Make training a game for both of you. Learn and have fun! Keep sessions short and successful. This is quality time!
4. Establish hand signals that are consistent with the words you are teaching. Be aware of your body and the movement of your hands. Dogs learn faster from watching your body language than from your words. Remember they are canines and we are humans. It's not easy for your dog to learn a foreign language. Always use one word to mean one thing.
5. Never lose your temper with your dog. Anger only makes you look unpredictable, maybe even dangerous to the dog, raising the dog's stress and lowering his ability to learn from you. So often, we think the dog understands why we are mad when in reality the dog is VERY confused by our behavior and not learning what we are trying to teach.
6. It's simple math. Dogs repeat behaviors that are rewarded. A positive consequence is what teaches the dog what you want. Be creative. Make it in your pet's best interest to do what you want by associating learning with getting what he or she wants from you. Make training a game for both of you. Learn and have fun!
7. Be deliberate in your actions with your dog. Provide for your canine's daily basic needs of training, exercise, companionship, play, food, water, shelter and you will see great results besides feeling loved and appreciated for it by one happy canine!
Legal stuff

Please remember that the written information contained in Pet Parenting, Positive Dog Parenting™ and Error-Free Puppy Parenting Tips™ are all copyrighted information, and cannot legally be forwarded or distributed to others outside the family at your residence.
You are welcome to discuss any ideas found here with other people. Please encourage others to enroll in Pet Parenting Courses by Rolan Tripp, DVM and Susan Tripp, MS, to learn, "How to become an even better Pet Parents™."

Improving the Relationships Between Pets and People